Corporate merchandise has become increasingly popular as a means of promoting a business or brand in today's world. Promotional items can be used to increase brand awareness, promote your products or services, and express gratitude to clients or employees. In this article, we will explore some creative and effective merchandise ideas that businesses of all sizes can use to leave a lasting impression on their target audience. From personalized apparel and tech gadgets to useful office supplies, these corporate merchandise ideas are guaranteed to make a positive impact on your next promotional campaign.
1. Branded Stationery
Customise stationery with your corporate design for a consistent brand image for your employees. Our selection of branded stationery products are sure to brighten up your office or serve as useful and practical gifts. Branded stationery has been hugely popular in the promotional merchandising market because…everyone still loves a nice notebook and pen. Branded notebooks, still one of our most popular products, with so many variations to suit all events and budgets. From stock options to colour matched, bespoke creations, get your brand name out there in a practical way, each and every day. Our selection of branded notebooks are perfect for employees who prefer the traditional style of note making, or serve as a constant reminder to other business professionals you meet at corporate events.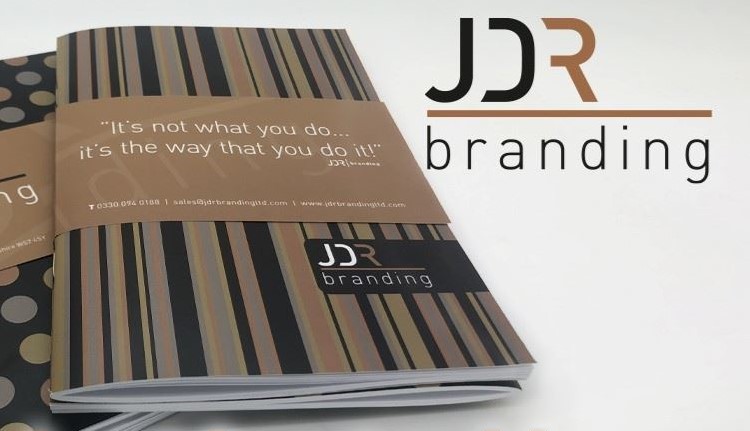 2. Branded Reusable Drinkware Products
Perfect for every season and to suit all events and budgets. The perfect corporate and lifestyle product for everyday use. Discover from our range of the best-selling drinkware products, including branded travel mugs, water bottles and more. Designed for on the move, your branded products will travel further than just the event it was intended for.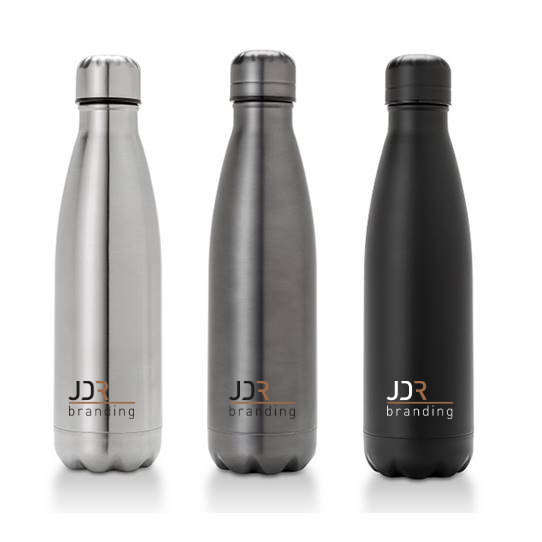 3. Branded Trolley Coin Keyrings
New style £1 trolley coin keyrings - popular, practical budget gifts. This type of branded merchandise is popular with shoppers and at larger events. They are easy to distribute and a great for giving people something practical and useful. Coupled with the fact they are such low-cost, it's the perfect way to raise awareness for your brand.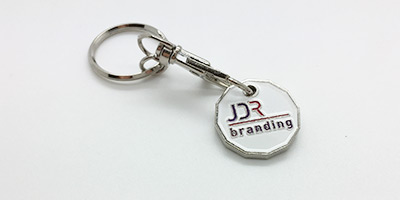 4. Branded Ceramic Mugs
At JDR, we can colour match your branded mugs, adding a contrast colour to create a bespoke look for your brand to stand out from the crowd. With the re-useable drinkware products designed for on the move, the branded ceramic mugs make the perfect promotional product for universities, business events and tradeshows. These mugs have a large section to personalise, which helps place your brand's messaging directly into the hands of potential customers.
5. Branded Promotional Ball Pens
Promotional ball pens with colour contrast trim, create a bespoke look to compliment your logo and other products in your marketing range. Promotional pens are a staple of the branded advertising product range and is often the greatest way to get branded exposure with regular, consistent, and classic day-to-day promotion.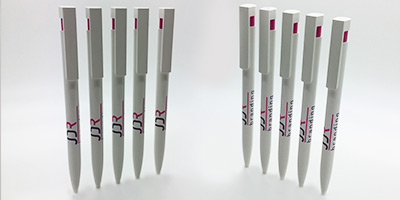 6. Branded Charger Cables
Charger Cables, always a popular, welcome gift for corporate and lifestyles uses. A very on trend gift with various packaging options to further enhance your company message. Once again, some of the most effective forms of promotional merchandise are those that are genuinely useful to the potential client and having a charger cable for their smartphone is a sure-fire way to get positive brand messaging out there.
7. Branded Mini Footballs
Footballs are always a fun giveaway, especially this year with the Women's Euros this summer and the Men's World Cup at the end of the year. Mini footballs, with a choice of design layouts, can be produced in your company colours for use in promotions and event giveaways. Celebrate the international tournaments this year with a branded twist.
Frequently Asked Questions about Corporate Merchandise
What is corporate merchandise?
Corporate merchandise, also known as promotional merchandise, refers to branded products companies use to promote their business or brand. These items can range from customized apparel and accessories to office supplies and technology gadgets.
How does corporate merchandise benefit my business?
Corporate merchandise can provide several benefits to your business, such as increasing brand awareness and loyalty among your target audience, promoting your business at events or conferences, and as a way to thank clients or employees for their support.
How do I choose the right corporate merchandise?
Consider factors such as your target audience, practicality, and budget when choosing corporate merchandise. Also, make sure the merchandise reflects your company's brand message and aesthetic.
How do I maintain quality control for my corporate merchandise?
Choose a reputable vendor and ask for sample products before placing a large order to ensure you are happy with the quality of the products.
How do I distribute corporate merchandise?
You can distribute your corporate merchandise at events, conferences, or with in-person meetings. You can also mail out items or offer them as incentives for completing surveys or achieving sales goals.
How can I measure the success of my corporate merchandise promotional campaign?
Set clear goals, such as increasing brand awareness or boosting sales, before launching your promotional campaign. Track your progress, monitor feedback from your audience, and analyse the metrics of your chosen distribution channels to measure your success.
For more information about success measurement, read our blog about measuring the ROI of branded merchandising.