Climate change is an important topic at the forefront of many people's minds. Words and phrases such as sustainable and ecological are becoming increasingly more frequent in our vocabulary and inform our decisions when making purchases.
Many major brands and household names are very aware that their customers are more eco-conscious when shopping. They make every effort to source the most ethical, sustainable, and eco-friendly products to support their customers' needs. The same focus is also given to their promotional gifts and merchandise. It is simply good business sense to continue this ethical thinking on everything that bears their name. It confirms that they are serious about climate change and are taking action to start or continue their journey to being a more ethical brand.
Sustainable promotional products are a great way to show your clients that you too are serious about climate change and the effects it is having on our planet. Eco-friendly merchandise can consist of reusable water bottles and travel mugs, tote bags and t-shirts with sustainably sourced cotton, even tech items such as USB sticks and battery packs, made using recycled or sustainable alternative materials. And because these items are reusable, your brand presence continues with every use. Your company is also seen as a brand that cares and can be a real taking point to those who see the branded products.
We only have one home planet...let's take care of it.
We have a great range of eco-friendly, sustainable products on our website. Everything can be branded too. And it's not just the products we source. The eco-friendly packaging that we use continues this journey too. If you have a request for a certain type of packaging for your product to be distributed in, we can help you source that too,
Our team at JDR Branding Ltd are only a phone call away to chat through your ideas and provide some recommendations. Here's some of the products we love, which show the diversity of the eco-friendly and sustainable products we can source, brand, and deliver for your next event or office drop. And remember we also offer a bespoke service to create one-of-a-kind products too.
Here's just a few of our favourite eco-friendly products.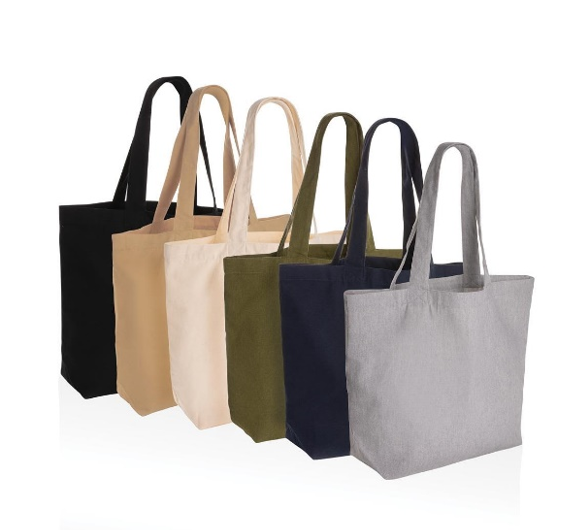 Impact AWARE™ 240gsm recycled canvas shopper with pocket undyed is the perfect way to carry your essentials wherever you go. This spacious shopper provides sufficient space for all your daily needs. Including a small inner pocket. The recycled canvas is undyed and used in its raw form, without chemicals from dyeing or bleaching. With AWARE™ tracer that validates the genuine use of recycled materials. Each shopper saves 1353 litres of water, the natural colour even more: 1544 litres. 2% of proceeds of each Impact product sold will be donated to Water.org. Composition 70% recycled cotton, 30% recycled polyester.
Double wall vacuum leakproof lock mug is the perfect size for your beverage. It's leakproof sealed flip lid is designed for easy open/close and on-the-go use. Vacuum insulation keeps beverages hot for up to 5 hours and cold for up to 15 hours. Made with RCS (Recycled Claim Standard) certified recycled materials. RCS certification ensures a completely certified supply chain of the recycled materials. Total recycled content: 80% based on total item weight. Capacity 300ml. BPA free.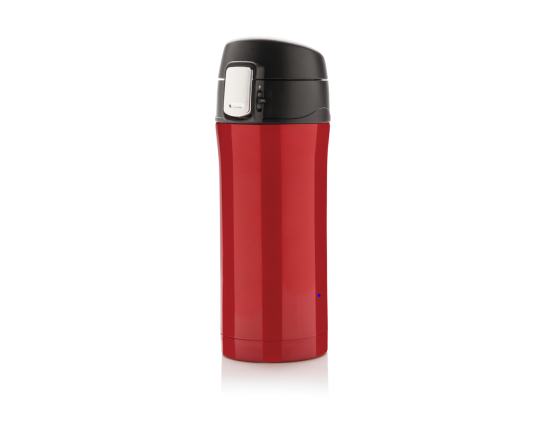 Double wall stainless steel vacuum mug keeps your drink warm for up to 5 hours or cool for up to 15 hours. The lid is lockable and therefore avoids any risk of leaking or spilling. The lid is easy to keep clean for optimal hygiene and is dishwasher safe. The unique design of the mug allows you to drink conveniently and safely with one hand directly from the mug. The size of the mug is suitable to place in any car drink holder. Made with RCS (Recycled Claim Standard) certified recycled materials. RCS certification ensures a completely certified supply chain of the recycled materials. Total recycled content: 71% based on total item weight. BPA free. Capacity 300ml. Including FSC®-certified kraft packaging.
Sustainability! This Impact collection is made with AWARE™ tracer. With AWARE™, the use of genuine recycled fabric materials for the caps and water reduction impact claims are guaranteed by using the AWARE disruptive physical tracer and blockchain technology. Save water and use genuine recycled fabrics. With the focus on water, 2% of proceeds of each sold Impact product will be donated to Water.org. This cap has saved 387 litres of water. A simple and comfortable cap suited for anyone. This 5 panel cap has a curved visor, embroidered eyelets for ventilation and metal buckle. Cotton twill made of 100% recycled materials and AWARE™ tracer. The material weight is 280 g/m2. Size 58cm. Water savings are based on figures when compared to conventional fibre. This calculated indication is based on reliable LCA data as published by Textile Exchange in their Material Snapshots 2016.